Sometimes you just notice how lucky you are when you have friends like this. 36 Miniature Schnauzer entries of which 7 Imbrez. 5 salt & peppers and 2 blacks followed by 10 Imbrez-minded friends of which 5 different handlers to our dogs. And this time we really got something to see. Our judge Michael Clancy from Ireland made us 2 new champions, 2 Best Of Breeds, one Best Of Opposite. We also had 3 reserves. Sunday was a bit different than Saturday in many ways. We found our dogs again from the critiques (which we did not on Saturday). All the faults were there and we also got much useful information as a breeders and if I remember it right, that is what shows are for. Wonderful sunny and very windy Mother's Day at Salo. Huge thanks to all our friends for being there with us and special thanks to Salo's show comittee for very professionally organised show.
Imbrez Forever Fenway
Best Male 1, Certificate, FI CH, Best Of Breed, wner handled and prepared.
Imbrez Womanizer
Bst Male 2, Reserve Certificate
Imbrez All Included
Best Bitch 4, owner handled and groomed.
Imbrez Lucky Lady
Best Bitch, Certficate, FI CH, Best Of Opposite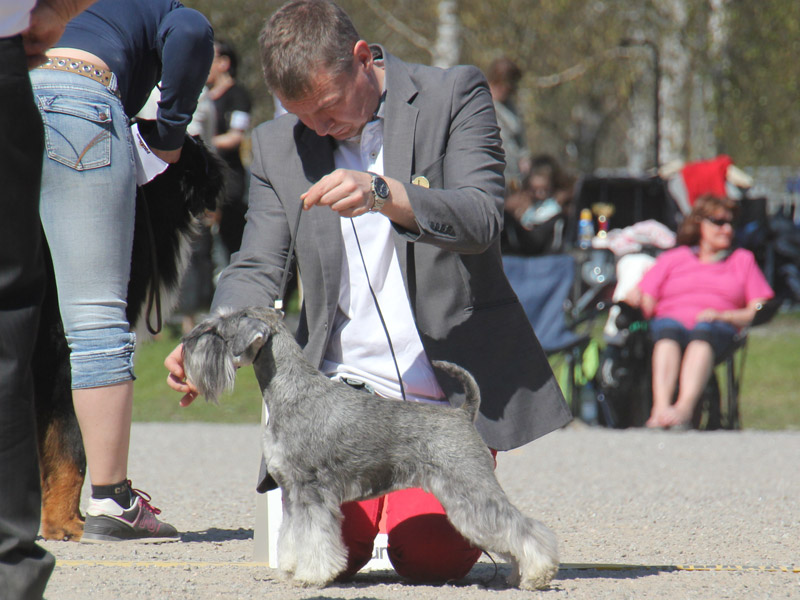 Imbrez Fenway Park Avenue
Best Bitch 2, Reserve Certificate
Salt & Pepper Best Of Breed
Imbrez Drop The Bomb
Best Male 1, Certificate, Best Of Breed, owner handled and prepared
Imbrez Drop By Drop
Best Bitch 2, Reserve Certificate
Black Best Of Breed
Our Certificate winners
Suvi with Ferro, Mikko with Lara and Anu with Robi
Team Imbrez at group finals