Same, same but different. First time on the road with Jack's owner Emppu, who has seen several horse shows, but never spent a whole day at the dog show. And we had 2 of them coming. It was not so long way to drive from Tallinn to Tarto, but snow storm made it a bit longer this time. And actually the weekend went really fast and extremely well. First picture is taken by Johanna Höök-Nikanne and all the others by Emppu. 
Saturday
Judge was Malgorzata Halas from Poland and we had some major issues with our dogs, mostly short necks… but
Imbrez Just Don't Get It
Forrest were left without cq maybe the first time this year and because of he had too short neck. Well… what can I say. We did not even get picture of that, but thank god we had Sunday left for better results.

Imbrez All Included
Iitu competed on her own level again. Result was almost there BB2 with Reserve Cacib. She has allready  Estonian certificates so no need for that. It was really fun to show Iitu for the first time. Heidi has trained her extremely well and it was easy to continue on that road. Just love this little girl despite the fact that she also had short neck today….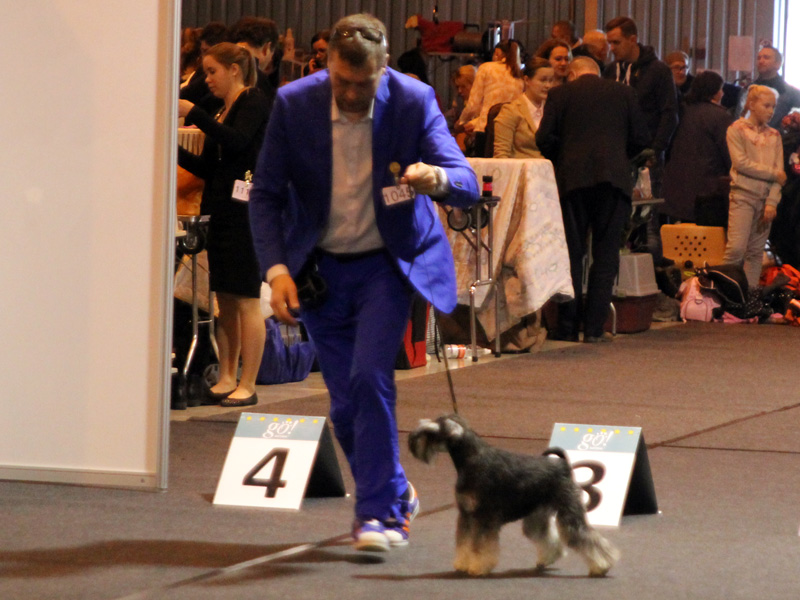 Imbrez Get Bizzy
Jack needs just one Cacib to become international. This was not the weekend we receive one. 5 males champion class on Blacks was a bit too much this time. Jack behaved and showed himself really nicely, but that was not enough this time. BM4th and yes, we are happy with that.
Myla's Hunger Games
Showed Saga while Niina had to stay home with broken knee. Saga had also short neck or arm or that was what we could read from the critiques. No cq was a bit unexpected. But we just took it. Saga showed himself beautifully on standing but we will have lot to do when moving, the happiness from home yard is still missing at the show ring. This guy is great to show, even the handler grows few centimeters in the ring.
Sunday
Judge was Ricardo Torre-Simoes from Brazil and the day went just great as usual. Of course this was the second show day in the row for Emppu, but she also made it without bigger issues. Thanks again and also for the pictures.
Imbrez Just Don't Get It
Forrest was in the right position today and he won males on pepper & salt resulting Best Of Opposite and at the same time Estonian Junior Champion. He moved and he showed temperament we are used to. Thank You Suvi for all your work with him and for possibility to show this man.
Imbrez All Included
Iitu continued on her own level. Result was – again – almost there BB2 with Reserve Cacib. Movements were better than on Saturday and we had also learnt some things together. Thank You Heidi again.
Imbrez Get Bizzy
Again nice performance from Jack but still the 5 male Champion class was too hard this weekend. Results 4th best male again.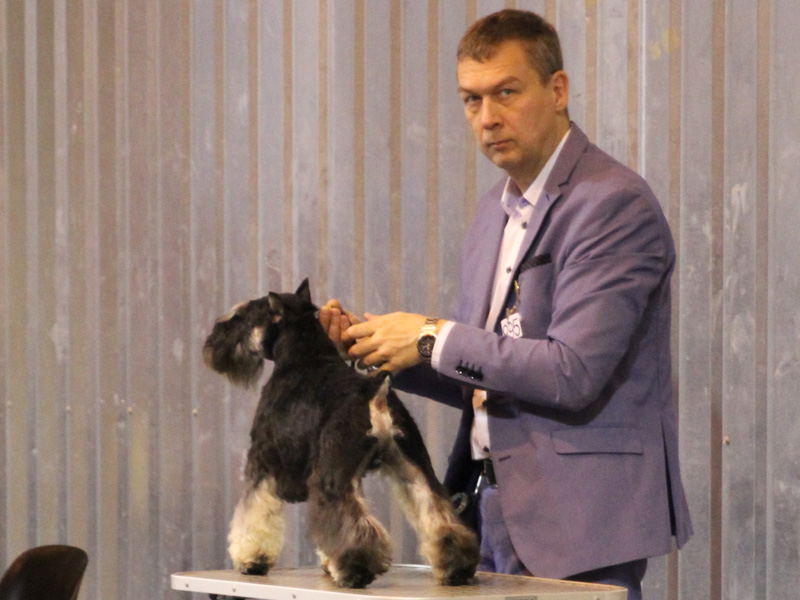 Myla's Hunger Games
I have to say I was a proud handler. Handsome dog with beautiful outline. What more can you hope? Movements will free up and we definitely need few more months for that. But hey, just love him. BM2 placement and Reserve-CACIB was not bad at all. Thanks to Niina for this possibility to show him.