This year the legendary Harjavalta show was way less snowy than last year. It's been a good starting show for summer season in previous years, and also it's been a good place to get new Champions and this year made no exception.
Imbrez Operas Ghost A New FI CH
Thank you Anniina for a possibility to show "Aave" for the very first time. This was a huge pleasure! Best Bitch over two Champions, Best of Opposite and New Champion in the first possible show. This little girl truly is something! How great it is to show a dog with excellent body structure and beautifull reachy movements. It is like just holding the show lead and follow the girl. I am still smiling 🙂
Imbrez Womanizer
First time ever in the ring and how fun was that. Thank you Sanna & Co for all your work with Samu. This was an excellent learning weekend for him. Spending over night in our pack and sleeping in our bedroom. This guy has experienced a lot this weekend. But about the show: if we ever had doubts about him, they all were gone on Saturday evening. And the feeling just became stronger when we arrived to the show ground. We had some time to move him around and he was straight like at home in Harjavalta. And when we reached the ring… let the pictures do the talking. Best Male, Best of Opposite and first Certificate at his first show.
Imbrez Fenway Faithful
First time to "Ilona" too. As Niina said it "I was speechless, but Ilona was not". Anyway, first show ring debute with excellent and CQ, was much more we ever expected. As some people know, this was a result of months and months hard work. Hopefully one day Ilona focuses herself in shows like she does in agility. 
Imbrez Lucky Lady
She is a Lady. Just over one year of age and ready for the show. She presented herself such nicely. Drivy movements and bold, reachy standing are what this girl is made of. We are such lucky to breed and show this kind of dogs. And yes Sari: you defenitely have done many things right with your dogs. Showing "Lara" is again like going with the flow. beacause of good training she already knows what to do and when. So proud of this little girl! This time 2nd in open class and Best Bitch 3.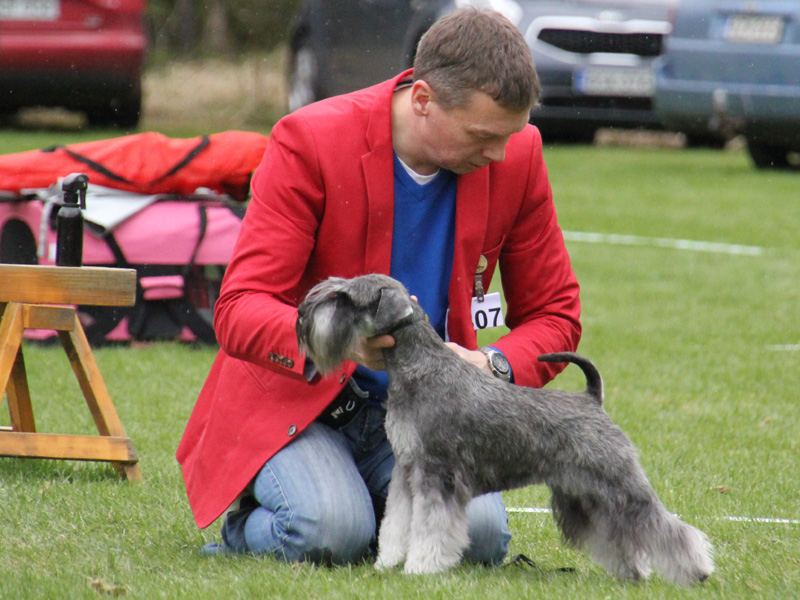 Judge for Harjavalta was S.Latic from Serbia.