Rainy days and some dog shows
Pouring rain, heavy rain, light rain, dog coats, wet dogs. It did rain a lot in Norway, actually nearly all the time. The picture could show also the pretty houses by the hill (in the rain), but there are no landscape pics this time, as my iPhone doesn't handle the rain very well.
We left on Wednesday by boat to Stockholm, drove to Oslo Norway, or actually place called Lilleström nearby Oslo, on Thursday to make it on time  for All4Dogs shows. On Friday there was Norwegian Winner 2014 International Show. We had 6 dogs with us, three salt&peppers, 2 blacks and 1 black and silver. And of course, how else, one bitch in heat, and two males with. This situation just seems to follow us with these long trips. 
Imbrez Get Bizzy
Black Jack was placed second in Champion Class with excellent and cq, but he didn't place in Best Male class.  
Imbrez Grand Operetta
19 months old Diva competed in Open Class and was placed first in class with excellent and cq. No placement in Best Bitch class, though. Blacks were judged by breed specialist Göran Åkesson from Sweden.
Imbrez Monster Inc.
Imbrez Monster Inc. started the salt&peppers by winning the Champion Class and ended up placed Best Male 3. In these shows we didn't get written critiques, so it's difficult to say what didn't please our judge Per Lundström form Sweden.
New Norwegian Junior Winner 2014 Imbrez Fenway Park Avenue
13 months old Viivi was the bitch in heat, and we already were thinking about leaing her home because of the heat. Good thing we didn't, it would have been a pity. This Fenway and Hani  (Imbrez iDoll) daughter got Norwegian Junior Winner title and was eventually placed Best Bitch 3.  
Imbrez Green Express is back on track
Third Fenway offspring with us, Ziri, returned the rings as beautiful as ever. On Friday, she was second in Champion Class and also second Best Bitch. But what a joy to show her after a long break! 
Imbrez Black Or White 
Pretty Ansa was with us again. Unfortunately the change of judges was not really on our side, Ansa was placed thid in Champion Class and ended up being Best Bich 4. Black and silvers were judged by Eeva Rautala from Finland. 
Sightseeing on Saturday
On Saturday we just rested and took it easy. Decided to drive to city of Oslo and take a walk in the park with dogs.
Oslo had quite a few electronic cars. Some of them really beautiful as these Teslas there are also white and blue Nissan Leafs in pics, but they differ in style with elegant Teslas.
Sculpture park Vigeland was an interesting experience, big sculptures and plenty of green grass fields. Lot of people and dogs walking and running. It was interesting to see that nearly all the dogs ran free. I think we saw two other leashed dogs besides ours. Very good social experience for our dogs, though. This was magical walk during our trip as it was the only one in Norway when our dogs didn't have to wear rain coats. And just a note for other unknown tourists.
When we returned to our car, we noticed that Norwegians welcome tourists in Oslo with studded winter tires with nearly 100 € fine. Yes, we paid for toll fees in advance but had no idea there was an area where driving with studded winter tires was prohibited (it makes the air quality worse). However, you can buy special stickers for using those tires. But does the sicler leave the air quality better..? 
Had to include this familiar sight. The hotel elevator was broken for two days. 5th floor, 6 dogs, lots of stairs to walk up and down. Lots. But then, on the other hand, few extra pieces of chocolate went down well without guilty feelings.
Imbrez Get Bizzy in Nordic Winner on Sunday
Jack started the show day on Sunday. Not too bizzy this time, but missing beard (we still wonder when it starts to grow…) seemed to bother too much this time. Champion Class 2 with excellent.
Imbrez Grand Operetta
Diva showed even better on Sunday, but missed also beard (should pretty little girls even have beard?), and was placed second in Open Class with excellent and cq, but no Best Bitch placement. Blacks and salt and peppers were judged by Petter Fodstad from Norway.
Imbrez Monster Inc.
Wow, how good our Börje looked! Winner of Champion Class, but placed third in Best Male competition. This was little disappointing as he was only after the titles, everything else he already has. Too American for our judge today. Well, it's always a matter of opinion.
New Nordic Junior Winner 2014 Imbrez Fenway Park Avenue
Little Viivi got another junior title on Sunday. She also pleased our judges eye and placed Best Bitch 3. What a start for her show career: 3 shows, one BOB, two titles and placements in international shows. 
New Nordic Winner 2014 Imbrez Green Express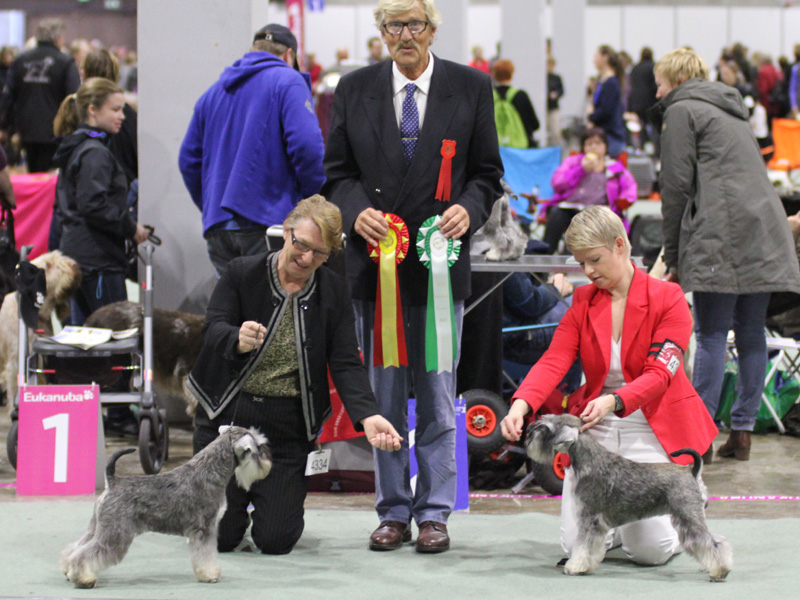 Ziri nailed it again! Stylish was good thing on Sunday. Champion Class winner, best bitch and best of opposite. With Norwegian certificate Ziri became Norwegian and nordic Champion also. Wow, happy, really happy! Ziri must be too, she doesn't have to get back to Norway again. 
New Nordic Winner 2014 Imbrez Black Or White
Ansa's owner Annamaria said after Friday that these title shows are just not for Ansa. Well, we just waited for better titles! Ansa charmed the Swedish judge Lars Widén and was best bitch. Also new Norwegian Champion with this Certificate. We just love this dog to bits and it's a pleasure to take her with.
All in all, after Sunday's 50/50 success and 6 new titles we are pleased. Was nice to see lot of friends again, and also see how inside shows are organized in Norway. The next year Norway hosts the European Dog Show and there's quite a long way to go. Whoever had made the ring plans and hall plans didn't succeed too well. Quite odd-shaped rings, and especially on Friday with all breeds being judged on same day, it was impossible to move in halls, just over-crowded. And even there were many cleaning patrols, rarely one sees so much dog pee and poo at the halls. Might be because of the outdoor area was far away, difficult to find and there was only one. 
(Under) On our way home, three of the girls are waiting for their dinner at the sea. No buffet this time. Once more, without helping people this trip couldn't have happenede. Thank you for Milla, Minna, Johanna and Annamaria for letting us to steel your precious dogs away for nearly a week. And most of all, thank you all who took care of our own dogs while we were gone.