Black Boys
Jack went back to basics with Mikko, and well done with Jun CAC and Best Male 4 placement. So proud! Toby enjoyed being back in the show ring, and he is so much fun to show: exc cq and BOB veteran again.
What can I say: Boris was again class of his own and our Russian judge Kirill Barbosov placed the boys BOB! It was 7th show in a row as the best male for Boris. We are so happy to have this wonderful Fenway son. Thank you Milla for your homework with him.
---
Salt & Peppers
In salt and pepper bitches, our junior princess Grace showed also well, Jun Class 2 with exc cq. Both our juniors have grown a lot in this trip, so it was good to take the siblings with even I had my suspicions before the trip: they do are a handful sometimes.
Hani and I worked even better together on Sunday. The result: Hani was Best Bitch and BOS. Wow. Our Happy daughter is really happy-go-lucky-girl. And for this we also have to thank Heidi!
Very very pleased. And not so burnt on Sunday.
---
Junior Class bitches Imbrez Too Bizzy To Care (2nd in class) and Wild Rush's K-Pop Star at TrePés (1st in class)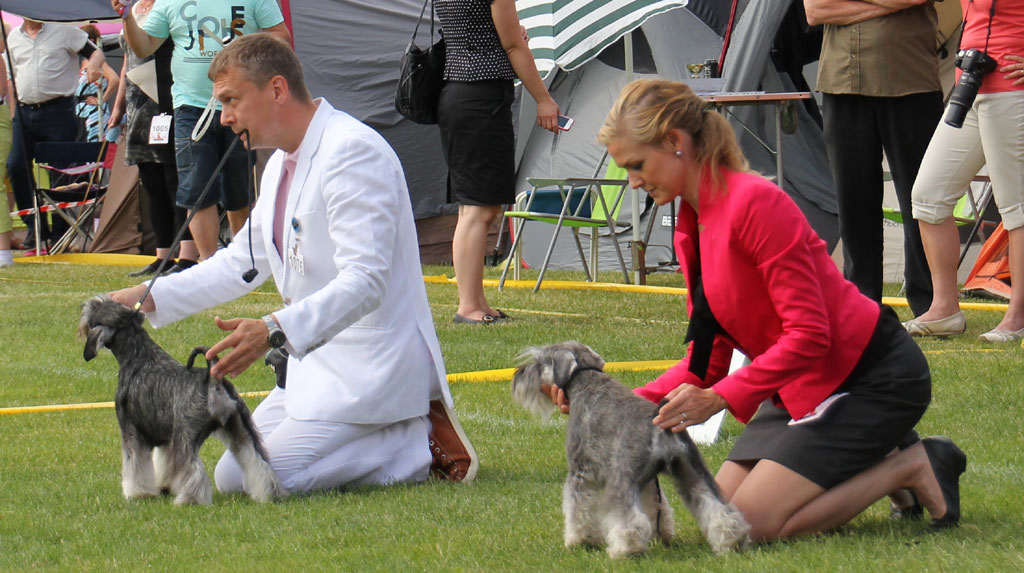 Imbrez Monster Inc at Group Finals