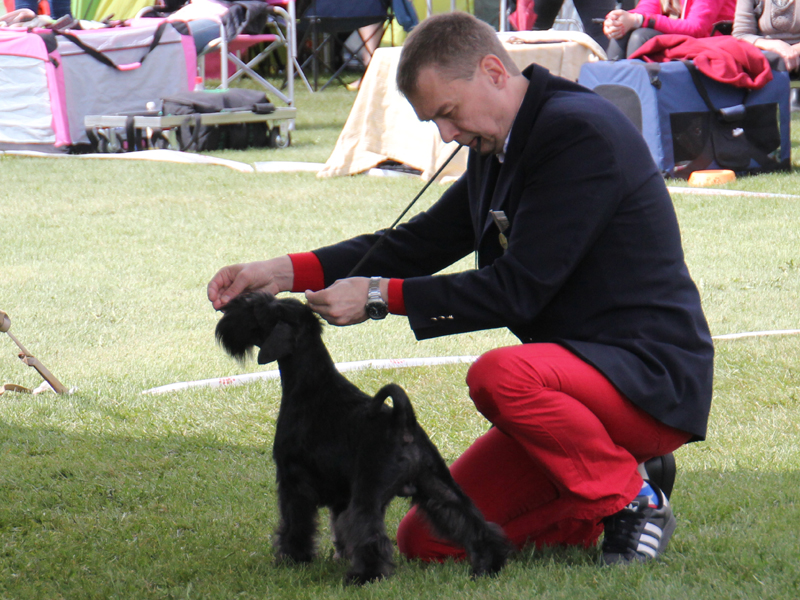 Imbrez Get Bizzy
Expect nothing, receive more..? Three weekends, three new Finnish Champions! Wonderful Mothers' day at Helsinki International Show today. We showed three Solar offspring from two different litters and colors. 
Imbrez Grand Operetta
Black half-siblings Imbrez Get Bizzy "Jack" and Imbrez Grand Operetta "Diva" were BOB and BOS. Jack got CAC and CACIB and became Finnish Champion! Junior Diva showed like a pro and moved like an angel to CAC and Best Bitch.
Imbrez Meet Your Destiny
Salt and pepper Imbrez Meet Your Destiny "Saku" returned to show rings nearly after one year break. This well behaving young man was Open Class first, Best Male 3 with CACIB and re-CAC. Very pleased for this first show result! Thank you Miia and family taking such a good care of our destiny boy! 
Imbrez Too Bizzy To Care
Jack's sister and Diva's half-sister Imbrez Too Bizzy To Care "Grace" debuted in Champion Class with fun and lots of energy (as Bizzy-offspring always do). Today Best Bitch 2 with re-CACIB.
Thank You breed specialist Nina Karlsdotter from Sweden, the results are well appreciated.