It was girls' show trip to Tallinn Estonia this time. We had four dogs with us and clear goals. As most of them were met, we could honestly say on the way home, that it was successful and good show trip. Interesting also, but successful. 5 BOB, 2 BOS, 7 Certificates and 2 new titles. No rain, early boat home, ok sleep. What else can you wish for? Cake, yes, and there will be more cake next time.
Imbrez Just Don't Get It
Forrest did get it! This junior was in his first ever indoor show and did really well. Suvi's Forrest ran to BOB on Saturday, with Estonian Junior Certificate. Here with judge Fernando Quilis Bonet from Spain. On Sunday, Forrest was BOS and received his second Junior Certificate, way to go!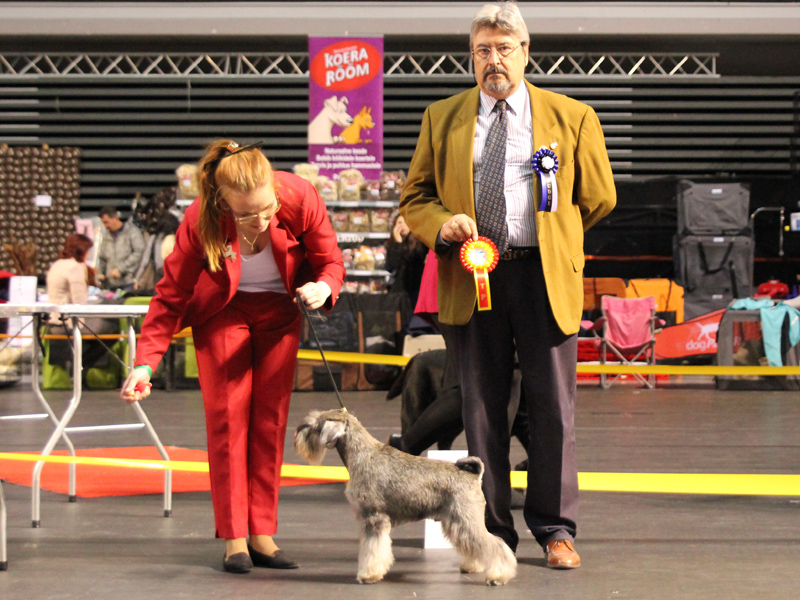 Imbrez All Included
Always exciting to show new dogs. Iitu has always been owner handled, but now this little Grace (Imbrez Too Bizzy To Care) and Boris (Imbrez Monster Inc) daughter is visiting us for a while and shown also by us. On Saturday she was way over angulated behind and also bit too dark for our judge, and very good judgement. On Sunday, on her normal level, BOB with Estonian Certificate. 
Imbrez Drop The Bomb 2 x BOB
Suvi showed her Ferro to BOB on both days. The first show day on Saturday, Ferro got Estonian certificate and became both Estonian and Baltic Champion.
European debute for Am Ch Myla's Hunger Games, BOS and BOB
Saga the Man. We've been debating whether or not to change Saga's name. It is girl's name especially here in Nordic countries. But then, one look at him and there is not a single girlish thing about him. So Saga it is. After all, Hunger Games is a great saga…
I was even more excited to show Saga in his first European show than showing Iitu. I think with the time we've spent together and trained with Saga, we did ok. Not even close to perfect, but we just need time. And lots of cuddling. On Saturday, Saga was best male and BOS with Estonian Certificate.  On Sunday Saga was BOB with his second Certificate under judge Berri Beare from Ireland.
Not many pictures of Sunday, but here is Iitu, who won BOB and received her Estonian Certificate, which waits until one of her Ch titles is finished.