Imbrez Fenway Park Avenue and Imbrez Formalizer in the same class
Sometimes it is nice to show beautiful dogs, but this time I almost wished to be in the ringside and just watch them move. And that was not all folks!
Imbrez Lucky Star
It was great to see this more relaxed pair in the ring. And how well it went. Marika and "Idefix" really worked well together and that was easy to see from today's results. Best in Junior Class and Best Male 4th with res-CAC. And this was only their second official show. How much can we expect from them in the future! 
Imbrez Energizer
started the bitches in Junior class. The class was almost harder than on Saturday and we are very happy with 4th placement with Excellent critique. Thank you Emilia and "Dina"!
Imbrez Fenway Park Avenue
Indeed, it was a real pleasure again. Last time in Norway with huge results and now with a new and bit too short coat. But yes I do like this girl. She is not the easiest one, but I do not prefer easy ones. Temperament, movements and standing. Thank you Minna, it is always great to show this girl. "Viivi" was first in Intermediate class with Exc and CQ, an excellent result with this coat.
Imbrez Formalizer
Again huge amount of pictures and nothing to change in all of them. "Era" just looks good. Intermediate class second could have also been first. Thank you Anu for showing this little lady!
Team girls in Best Bitch competition
Or was it Dream Girls? Two intermediate class youngsters and Heidi's Open class winner Mila.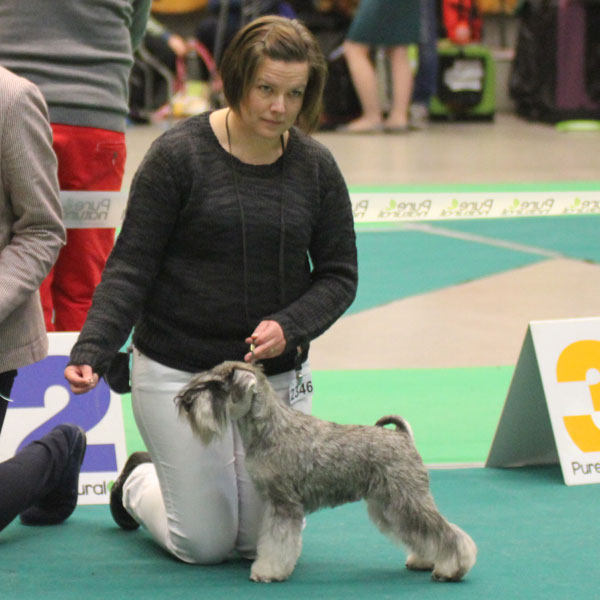 Memorytale's Can I Care For You: New FI Champion
And she is worth it. Defenitely. Congratulations to Heidi! And also to Johanna for Lore's (Cheantake Just like a Montaque) second BOB of the weekend! Thank you judge Adam Ostrowski from Poland.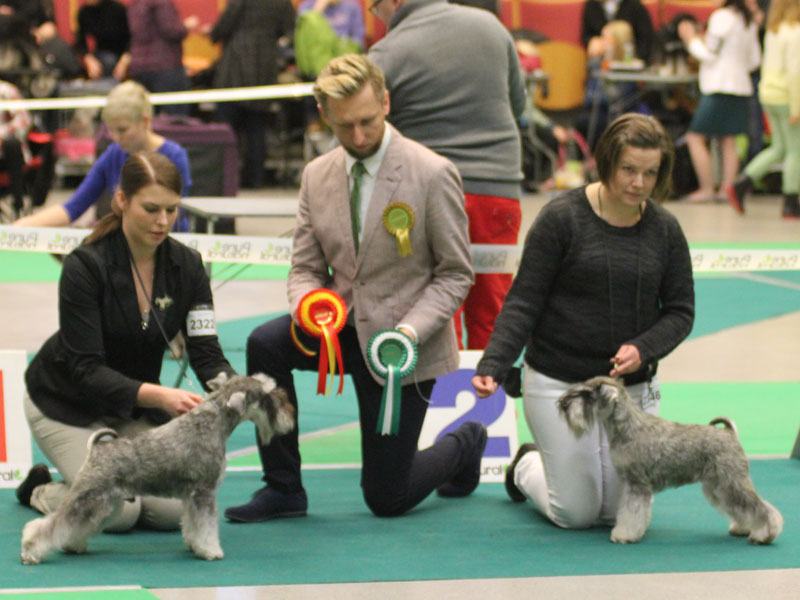 Imbrez Black Or White
"Ansa" was Best Bitch again. In 2012 she was BOB on both days. This time BOB and BOS. And again she moved herself to the right place. Nothing else to add. Thank you Annamaria. And thank you judge Paul Scanlon from Ireland.
Imbrez Opera's Ghost
It went even better than on Saturday. Just how good they looked. Best Bitch third and CAC after two beautiful Champion Class bitches. Now we just wait a few months to continue her showing.
All Done
Phew, all done for at least one year; planning, building, running, short nights, unbuilding, pictures etc. etc. Making shows is great, but after the weekend a couple of free days would be nice. All went really well again with both Speciality (147 minis) and Turku International Top Dog Show (4070 entered dogs). Thank you everyone for the nice weekend!